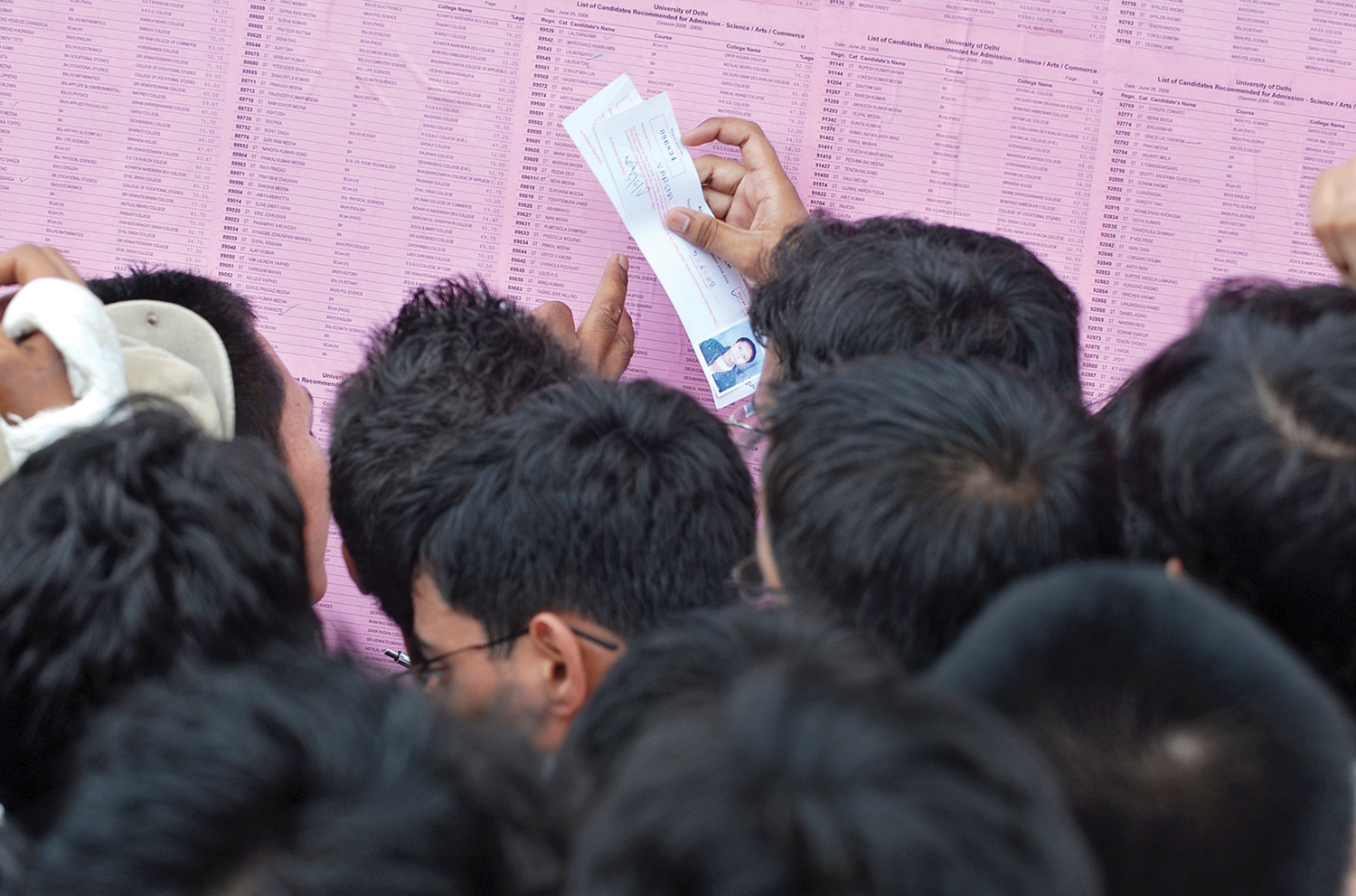 Finally, it has happened! After the ridiculous 95% and 96% cut-offs for the last few years, the cut-offs this year have finally touched 100% and exposing the joke of these cut-offs in totality. The 'first list' cut-off for science students at Shri Ram College of Commerce (SRCC), University of Delhi, has been declared at 100 %, Hindu College is at 99% and Lady Shri Ram College is at 97%. What people were failing to understand all these days – the ridiculousness of it all – they have suddenly understood in one stroke; that education is no more a matter of choice for Indians, its just a matter of chance.

First, let me get into the logic of the SRCC cut-off! Well, the principal of SRCC of course thought it was a natural progression, and he was playing to the market demand and supply. As the number of people getting 96% plus in commerce rose ridiculously, he realized that SRCC seats could possibly get filled by declaring a 96% cut-off for commerce students. For science students, traditionally, the cut-off has been about 4% higher – since it's easier to score marks in sciences than in commerce and humanities. So naturally, the cut-off for science became 100%. Now, of course, he could have kept it at 99% and avoided all the ridicule; but he obviously had thought that this could also turn out to be a good publicity gimmick for SRCC, and to show how top-grade SRCC is. The other logic was also that it's a commerce college and science students who fail to get into the likes of IITs typically join colleges like SRCC taking advantage of their high percentage – such students keep appearing for IIT exams for the next couple of years and leave the college midway through the course. So why give science students an unfair advantage when there are so many commerce students, who intentionally chose the commerce stream, work hard and are more deserving?

Whatever the logic was, it just backfired – simply because from the college admissions perspective, what was a demand-supply situation, made a glaring point about the education system in India. One of our professors at IIPM, a couple of years back, told our Dean that he had studied at SRCC many years ago and that too after obtaining a percentage of only 64% in his board exams. And that a few years later, he went to get his son admitted, but couldn't, due to the huge 90% plus cut-off! But what he noted with immense sadness was that while the cut-off figures had gone up, the infrastructure had become totally dilapidated, the seats had remained almost similar to what they were years back (SRCC has just 272 seats this year); and the faculty condition had worsened too – hearing the SRCC Principal speak in a recent TV debate on Times Now, was live proof of that for me... Not that my past interactions with any SRCC faculty had given me a sense of elation ever.

And there lies the irony of our education system. Investment in education gives the highest returns to any nation and the same has been repeatedly quoted by UNDP. But unfortunately, education is the only public good in India other than health, which suffers from the old baggage of scarcity. So, dilapidating institutions due to their aura and the advantage of scarcity – which too is mostly deliberately created – are most sought after by students. Why? Because they were the most sought after in the previous years! That seems to be the only logic. If institutions like IIMs keep their seats less to keep their placement packages high instead of contributing to the process of nation building by spreading education, then institutions like SRCC keep their seats less so that every year they can keep increasing their cut-off percentages and give the world an impression that they are great places to study. The truth of course is that from the perspective of education, they are mostly giving just about standard if not sub-standard education with the biggest weakness being the abysmal quality of their faculty, their teaching and communication abilities. As a nation, our education ministry has no clear cut policy or determination to provide quality education to every qualified and deserving student. It could have been done so by the combination of two key methods. Firstly by increasing seats in the current so-called colleges of high repute; and secondly, by making hundreds of more such colleges all over the country. Both require a world class process of creating quality faculty – apart from, of course, the determination of the government and the investment to back it up. And this is where we as a nation are clueless. We don't know how to create great teachers and are unable to attract top quality students towards the profession of teaching! Therefore, we are facing a perpetual bottleneck of quality teachers who can bring in the required increase in seats and quality colleges!

Of course, the private sector is the other option. But there are two key problems here. The government firstly has to decide whether to allow them to contribute productively or to make money by blackmailing them all the time and crippling their growth. Secondly, the government needs to know that the private sector will always have its own profit calculation – which they must. Therefore, in the short run, investments won't flow in, in a manner that changes the entire education landscape. It's only in the long run that the private sector can contribute in key sectors like health and education and that too after years of competition, shake-out and growth, which enable them to keep going to the lesser denominations in search of newer opportunities – since initially they will concentrate only on markets which give them higher and more immediate returns.

Given this situation, the only way out of this kind of a crisis is the government fulfilling the quality gap as well as supply gap with the help of a determined education policy, which has its focus on making high quality education available aplenty for the masses, so that India can make the best use of its youth force in the years ahead. And it's time for people to realize that only when institutions like SRCC will have 2800 seats instead of 280, will they be the real pride of India; till then, they will remain non contributing and farcically elite institutions fooling people into believing their non-existent greatness by taking advantage of the scarcity of seats and increasing cut-off percentages every year, instead of doing the hard work of increasing seats and producing and reproducing quality faculty!