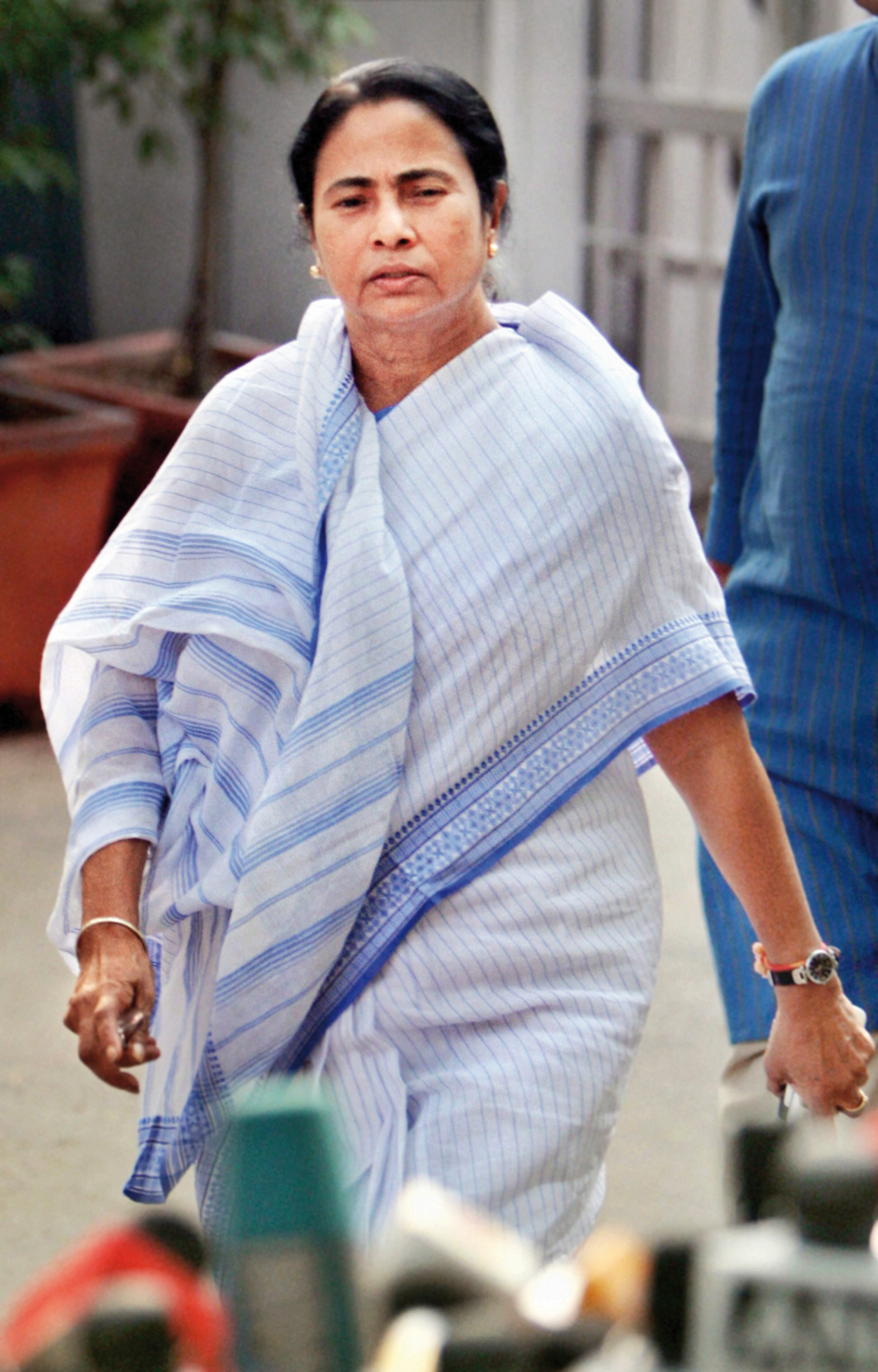 Writing today's editorial gives me immense pleasure! My professional area of interest, where I take all my workshops and seminars, is leadership. But with so much rotten occurring around with our leaders, when it came to writing, I have mainly been writing about the pathetic deeds of our leaders instead of what makes a good leader! After a long time, I have got this wonderful opportunity to write on leadership! All thanks to one lady who has finally emerged as a symbol of magnificent leadership in this country! Yes, it's too soon to be talked about perhaps! But what the heck! I have never been too late to criticize; then why be afraid of praising great work, even if it might be too soon!
So let me start with a brief background. Having personally interacted with a considerable number of senior leaders who were taking keen interest in Bengal, I know there was one key speculation that was happening around Mamata Banerjee before she threw the CPM out of power recently; that too after a 34 year CPM rule – out of which, barring a great first ten years, the rest can be easily termed as the greatest demonic and Stalinist rule in the history of independent India (in our TSI cover story dated June 19, 2011, we told you how skeletons are being dug out from the close vicinity of CPM leaders' residences).
The speculation was that in world history, whenever such Stalinist rule of repression has ended, it has ended with a massive revenge mission with thousands of lives being lost, since those who have been oppressed and exploited for so long almost logically seek their pound of flesh! In the case of Bengal, there is not one intellectual – including the strongest of supporters of Mamata – that I met who did not forecast a massive series of bloodshed post Mamata's win.
I was in a Statesman forum sometime back with Mamata Banerjee, where panelists were openly telling her about this fear of theirs! And they had a massive point. Apart from past global history to support their point, they had one more huge reason. Those grassroots workers who were working now for Trinamool comprised a huge number of ex CPM goons who had recently changed sides, yet not necessarily their murderous character traits. At the forum, when such speculation was being paraded, Mamata had a look of disdain; and quite rightly so. Here, she was almost on the verge of creating history with her life of struggle and sacrifice, and there were these people who were questioning her even before she had arrived – almost negating the import of her humongous effort!
Cut to exactly a month after her historic win, all those critics are biting dust! In the last 30 days, if one considers that there are around 40,000 villages in Bengal, then a minimum of one person dead per village, that is 40,000 deaths by now should have been the expected massacre, given the anger that the people of Bengal were seething with. Increase that ten times, and a figure of 400,000 deaths could have even made the potential massacre a repeat of Indonesia. However, the death count as of now is a mere 16. Never in the history has such a feat been pulled off! And this was possible only and only due to Mamata's amazing leadership and genuine commitment to bringing about a real change and make Bengal violence free! One of her statements that best highlighted the same was, "We want 'badal' which means change, and not 'badla' which means revenge".
The instruction to her party workers was very clear. No post-poll killings. In fact, she banned any kind of massive victory procession as well, to see to it that her instructions were adhered to. Today, a month later, it can be safely said that Mamata's leadership clearly ensured that a killing spree that was waiting to happen was avoided – and this is the single biggest achievement of hers! It however doesn't end here at that! It's what she is doing on a daily basis by leading from the front that is creating the biggest impact. She starts her work sharp at ten in the morning and ends office at ten in the night. This means that the office staff, the bureaucracy... everyone is being made to work as hard.
True, this cannot continue forever, but even if it continues for a few months, Bengal could be a changed placed in terms of the work culture of the government. She has kept some of the key portfolios with herself – like Health, Home, Hill Affairs etc. And this, she is making full use of by starting the day with surprise visits to any and every place that concerns the ministries in her hand. She has already visited six hospitals, caught doctors coming late and initiated strict action. Officials have no idea of who could be next in her firing line and are on their toes trying their best not to get caught on the wrong foot! Her genuine commitment has given the Gorkhaland leaders an opportunity to come to an agreement, because they are realizing that her promises are not empty.
The biggest internal security threat facing India currently is the threat of the Naxalites. The truth, however, is that this movement has more to do with the government's lack of commitment towards giving access to health, employment and education to disadvantaged masses than anything else. This is exactly what Mamata also realizes. After coming to power, she has shown her commitment to the Jungalmahal areas (Naxalite infested forest areas) by increasing the minimum family income limit for access to the Rs 2 per kg rice from Rs.24,000 to Rs.42,000!
What this ensures is that while previously, only families earning below Rs.24,000 could have obtained the low priced rice, now more families can do the same even if they earn much more. Not just that, to ensure that this doesn't remain a promise on pen and paper, she has started mobile ration vans which are going almost door to door and handing over the rice – and thus nipping pilferage and black marketing at the bud! And finally in education, though not much has been done yet – after all, it's just a month that she has stepped in – she has already initiated the process of freeing the Presidency College from being a place of useless student union activities to bringing back its lost glory by appointing Sugata Basu and Amartya sen as key mentors to bring back quality!
No leader in post independent India has perhaps shown this kind of genuine sense of urgency and real action with commitment for the passes in the past. Her simple living, absolutely honest record, white saree with blue border – in the true Mother Teresa tradition – simple chappals and nonstop brisk walk from one corner of Bengal to another (accompanied with her most efficient administrative manager and leader Dola Sen), all of this is setting a huge example of genuine leadership that Indian political leaders need to learn from. The road ahead however is not going to be all that easy. Especially given the mess that the CPM has left the economy of Bengal in. With an annual budget of about Rs.95,000 crores and a humongous loan baggage of Rs.200,000 crores, the economy sure is in a mess.
While most states use about 40% of their state budget on investments, Bengal has been using about 90% to 102% of their budget solely on salaries, pensions and interest repayments. The CPM government never believed in industrialization; but instead of paying their people in a manner commensurate with the state's condition, they made salaries at par with Central government pay scales, creating more problems. Loans were mainly taken to meet salary expenses from time to time. All this has resulted in a three pronged problem for Bengal! Due to no investment, there is hardly any growth.
The Central Government, which allocates funds in a manner equal to the state's investment, almost gives no support to Bengal as the state hardly invests any money back. And finally, there isn't any growth from the Planning Commission fund, which other states get since the new fund allocations grow at a rate of about 15% every year to cover inflation and make provision for growth, but subject only to the state spending the whole of the previously given fund. Bengal is one of those unique states which is unable to spend the funds allocated – and in that case, loses out on the new funds! Precarious indeed!
Mamata however has played a masterstroke in getting the FICCI veteran Amit Mitra as her Finance Minister. He is a real intellectual. His outlook is very futuristic, yet his education has the values of an equitable society. And most importantly, the TATAs and Ambanis trust him. He is expected to open the floodgates of new investments into Bengal! The task, though as I just elaborated, is uphill! But the way Mamata is progressing, everything uphill is looking like child's play, because she is working with the passion of a woman possessed.
In the heart of her hearts, I am sure she knows that even after this huge anti-CPM wave, CPM got more votes that Trinamool alone; and with just an additional 5% votes, they would have got 46% votes and the Trinamool Congress and Congress combine 45%. Having the loyalties of such a staunch vote bank even in their worst times, CPM may be out, but it sure is not over yet. However, If Mamata continues to display this kind of unique leadership traits, CPM could actually become history.

Budhadeb's winding up of office every evening by 4.30 pm and going religiously to the Nandan theatre hall every day, which once upon a time used to be viewed as a mark of his cultural depth, today reminds people of Nero playing the fiddle while Rome burnt – especially when they see Mamata working for 12 hours a day and yet running short of time with so much still to be done.
As a management teacher, what Mamata is doing right now is to me a new path breaking political leadership theory – 'The Mamata Banerjee Leadership Theory of Aggressive Action with Commitment for Change'. And this theory has the power not only to change Bengal but also change India. Either leaders at the Centre need to learn, get inspired from Mamata and follow her practice, or Mamata has to move to the Centre next and show India the way with her 'Aggressive Action with Commitment for Change' style of Leadership!