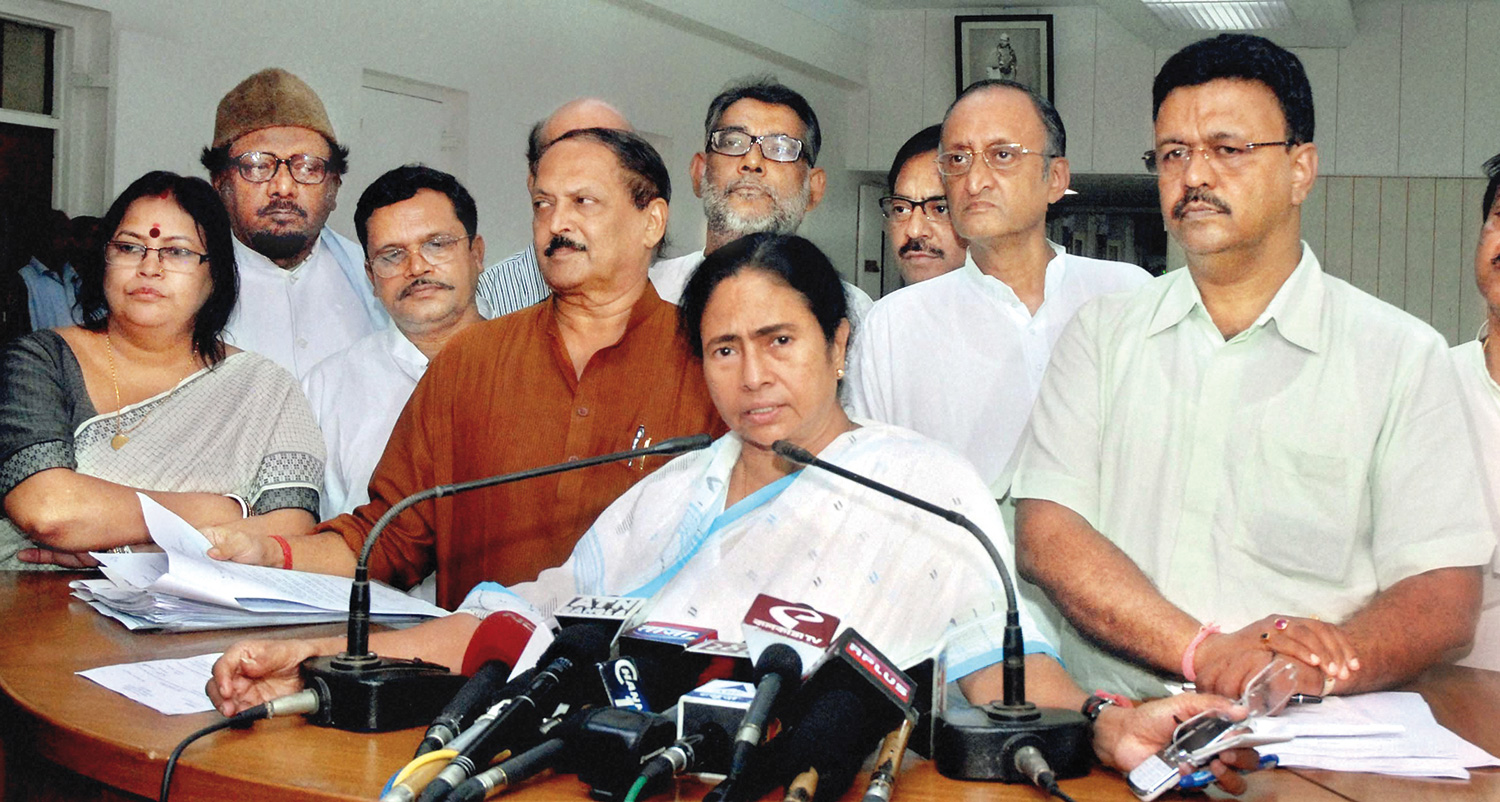 As I watched Mamata Banerjee's rally in Calcutta on 21st July, I was forced to wonder where her courage comes from! It was simply amazing to see a lady managing an entire show all on her own in the middle of quite a heavy rainfall. She was drenched and so were all her members on the stage. But she carried on. Kept giving her simple and honest speech! Kept inviting on the stage and felicitating one after the other of her still honest party members. And the thousands of people present kept watching it all and applauding it all amidst the rains – some under umbrellas and some completely drenched. But no one seemed to be interested in going back! The crowd further had the presence of one of CPM's ardent past supporters Mahasweta Devi, who, despite her deteriorating health condition, had made it a point to be there! And the crowd had another old woman too!

43 years ago, a 12-year-old boy had fallen to police bullets when students hit the streets for food, kerosene and exercise books in ration shops. At that time, that boy Nurul Islam had become the face of the Left movement in Bengal. Even now, Left student leaders place wreathes at the martyr's memorial at Subodh Mullick square. In an ironical twist to history, Nurul's 80-year-old mother Asiya Bibi was amongst those thousands who attended Mamata's grand show and showed their support for her. For those who aren't aware, Mamata's rally happens every year on the same day in memory of 13 people killed in police firing in 1993 when Jyoti Basu was the Chief Minister – of course the numbers thronging the rally multiply every year. It couldn't have been a more symbolic turn of the tables.

Looking at her growing support, one can safely say that she has taken Trinamool Congress to the brink of history! And it's all thanks to her courage – the courage to retain her simplicity and carry on amidst the dictatorial communist regime. Who would have ever imagined that one lone woman would one day shake the communist base in Bengal – that too just after being completely written off just about three years back! As I sat watching the television, I could only admire this woman and her courage!

And while I thought of her, I couldn't but help think of the other woman who has silently, amidst a lot of criticism, taken another Congress – the main one at the Center – to the brink of history. It's now being said that the Congress has never been in a more favorable situation nationwide since Indira Gandhi's peak days! Her courageous battle amidst criticism about her behind-the-scenes leadership is again what amazes me. From a simple woman who never wanted her sweet and smiling husband to enter politics, she was forced to not just see him enter politics but also see him meet the most tragic end possible. That was most certainly the end of her tryst with politics, till she realized that the Congress kept coming back to her, as without the dynasty, fortunately or unfortunately, the party just couldn't survive. And with amazing poise and courage, despite being the target of some of the nastiest personal attacks on her Indianness – to many of her critics, having an Indian citizenship and an Indian husband who gave his life for the country, it seems, doesn't still make a woman Indian enough – she consolidated the party. She kept herself and her son out of power, and gave the country a Prime Minister whom the entire nation stands proud of today – and yet remained the main source of strength for the Congress.

If one looks at things the way they are today, then one can say that though we have a woman President and a woman Speaker, it's these two women – Sonia and Mamata – who are on the verge of making the biggest impact on Indian politics in more than two decades. Both the Congress and Trinamool are in a historically advantageous position. And they essentially just need to build upon it so that the fringe players and nuisance creators like CPM are marginalized for years to come. If the Congress can grab this huge opportunity amidst the crazy infighting inside the growingly "out of tune with times" BJP and a disappearing Communist party – the key Third Front player – and work hard around its policies, it will come back to power in a much bigger way in five years from now. And obviously, that will be with Rahul Gandhi as the Prime Minister without an iota of doubt; unless, of course, he is made the Prime Minister before the next elections itself!

That would complete the transition of the Congress back to total stability as the strongest national party, leaving behind years of instability after the death of Rajiv Gandhi. At the same time, if Mamata can capitalize on this golden opportunity of the anti-Left wave that's sweeping Bengal and can hit the final nail in the CPM's coffin with precision two years from now, she would be creating history. By destroying the CPM, she would in the process help bring considerable stability at the Center as well. If both Sonia and Mamata succeed, it would be thanks to the supreme courage that the two women have displayed against all odds – Sonia on a personal front and Mamata on a political front. In fact, their similarities don't end here! If you were to look at both of them a little more closely, you would find something very interesting. Behind their mostly very determined stance and look on their face, they both have a very simple, shy and affectionate smile! That kind of tells what I call "the tale of two ladies". A tale of a journey of courage against all odds of two women, for whom at least their two parties must stand up in unison and salute!